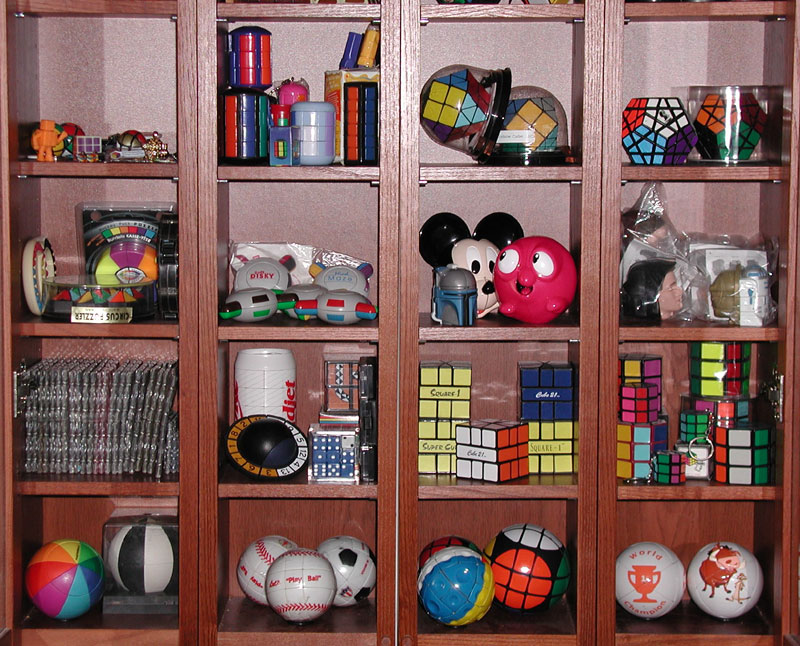 Row 9, Cell 1: A bunch of miscellaneous stuff including three different 3x3x3 key chain balls, a M.U.S.C.L.E. Man, a Rubik's Cube eraser, a pair of ear-rings, the WC2003 give-away pin, four or five buttons, a fake gold semi-functional (as a cube) necklace, and the Rubik's Cube coin from Hungary.
Row 9, Cell 2: A bunch different Whip-Its and similar puzzles.
Row 9, Cell 3: Two very carefully arranged Rainbow Cubes. One 7-colour, one 14.
Row 9, Cell 4: The Tomy Megaminx and the Hungarian Supernova.

Row 10, Cell 1: Circus Puzzler, Hungarian Rings, Hockey Puck Puzzle, Rubik's Clock.
Row 10, Cell 2: Tricky Disky, Mind Maze, three three-wing Tricky Diskys.
Row 10, Cell 3: Three puzzle heads. Mickey Mouse 2x2x2, Star Wars 2x2x2, and Morph 2x2x1.
Row 10, Cell 4: A set of the six different Star Wars 2x2x2 puzzle heads.

Row 11, Cell 1: Fourteen different Magics. Four different mini Magics, one Kelloggs 4-panel, three Master Magics, five original Matchbox Magics, and one red OddzOn version.
Row 11, Cell 2: Diet Coke can, Snake Domino, Color Domino, Brainball, Slide Cube, Rack 'Em Up.
Row 11, Cell 3: Square-1 (two versions), Super Cubix, Cube 21 Standard Edition, Cube 21 Silver Edition.
Row 11, Cell 4: Ten different Octagonal Prisms of three different sizes.

Row 12, Cell 1: Two Masterballs, one Geo (Rainbow) and one "Bundesliga" Duo.
Row 12, Cell 2: Three 3x3x3 puzzle balls. Two different baseballs and one soccer ball.
Row 12, Cell 3: Two 3x3x3 balls of different sizes and one Equator.
Row 12, Cell 4: Two Puzzleballs, one World Cup and one of the four different Lion King versions.