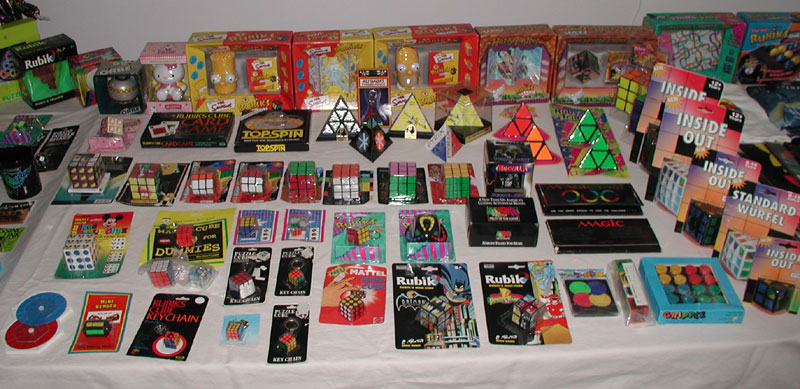 The back row: The Orb, Hello Kitty 2x2x2 (shaped), Bart Simpson 2x2x2, Simpsons Magic, Homer Simpsons 2x2x2, Harry Potter Magic, Harry Potter Jumbo 2x2x2.

The next row: White Hello Kitty 2x2x2, Rubik's Cube Card Game, TopSpin, Blindman's Pyraminx (signed by Uwe Meffert), The Pyramids, Ali Baba Key Chain, Pyraminx by Meffert (signed), Pyrix, Pyraminx by Tomy (signed), four Ruby's Triangles (two new packages, two old).

The next row: Fruit Boy, M&M World, Two tiled mid-sized Hexagonal Prisms, four dollar store cubes, Godzilla cube, two Magic knock-offs both showing centerfolds.

The next row: Mickey Mouse Bingo, Rubik's Cube for Dummies, eBay Live Andale key chain, Animal babies key chain, two different sizes of Wonderful Puzzler key chains, two different sizes of Puzzle Cube key chains, Rubik's Cube key chain, Rubik's Rings, Fruit of the Loom cube.

The last row: Puzzler Novice, Mind Bender, Rubik's Cube Keychain, two keychain knock-offs, Mattel Mini-Cube, Rubik's 2x2x2 Batman, Rubik's 2x2x2 Power Rangers, Circle Puzzle, Instant Insanity (Bob, Carol, Ted & Alice), Gripple.

The right column: Two Giant 3x3x3's. Five Vadasz Cubes: two 4x4x4's (one rainbow), two 3x3x3's (one rainbow) one 2x2x2.